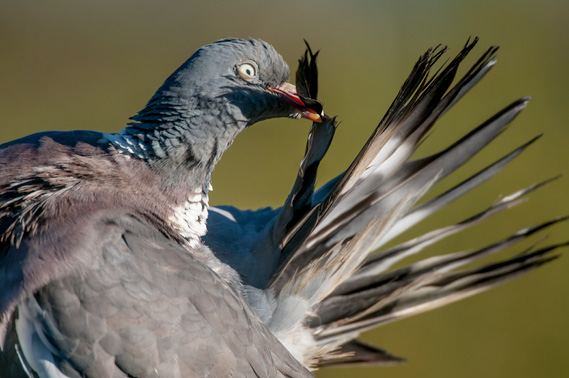 A recent visit to Slimbridge served to emphasise how images can be applied to various different aspects within the field of bird photography.
I was walking through the grounds in the morning and became aware of one of the wardens, James Lees, searching a particular stretch of bushes by the side of the South Finger hide. He'd thought he'd heard the call of a rare warbler but couldn't locate it. I owned up that if I saw the warbler he was on about I wouldn't recognise it for what it was, let alone be in a position to identify its call.
Everything against me
Eventually, he located it and identified it as a yellow-browed warbler, very impressive all-round, and only the third ever recorded at Slimbridge. But he needed evidence for the bird to be accepted by the rarities committee and turned to me to furnish it. No pressure now then! It was probably the flittiest bird I'd ever tried to photograph. Constantly on the move, deep and high in the thicket and challenging all comers to catch a glimpse of it even without binoculars! To further exasperate the situation the light was against me and the warbler content to stay high and on the wrong side of the line of trees for me at least, but the sensible side for the warbler as there it could catch the warmth of an early November sun.
With a 500mm lens and the D300 I was already in trouble. I didn't have a tripod, as I'd been using a bean bag in the hides that morning, and left the tripod in the van. So it was all going to have to be handheld. To begin with, watching for any slight movement (there were a group of blue tits complicating the scene as well) was difficult enough and when any branch shook or leaf quivered it was up with the camera only for it to move on and out of view. When, on the very rare occasions it briefly appeared in the frame, the automatic focusing would be competing with a myriad of foliage and never lock on. My arms were getting tired and we'd been after it for nearly an hour by now and still nothing other than the occasional quiver, a couple of decent blue tits and a few grossly out of focus images.
Pressure to secure an image – any image!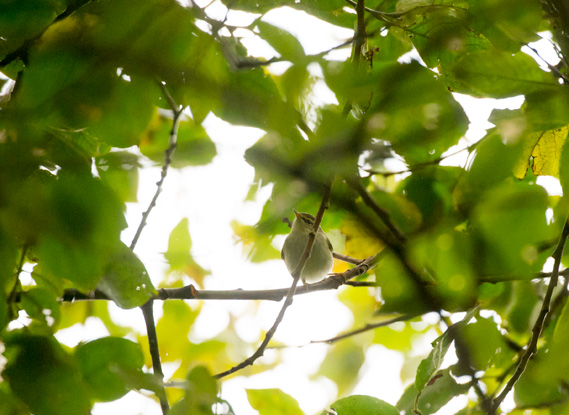 But I needed the shot, for the warden and his committee and was beginning to wish I'd not stumbled upon him or the damned warbler. I was after anything that would simply state, 'this bird existed and was here today'. Not my sort of thing at all, yet I know that to some folk that's what it is all about. I don't rubbish this use of photography but it's not me. I don't collect species, keep year lists or aim to reach a certain number of birds that I've got a record of, but here I was feeling very pressured to get this shot. To be fair to the warden the pressure was not all coming from him, although he was rooting for me, it was coming from myself. 'I'm a photographer and a professional dam it, I can't fail here' I kept hearing myself say, come on you've got to get something!
A few other people began appearing after it had been reported on Birdline but it was still proving as elusive as ever, some not even managing a glimpse through their bins. Meanwhile I was still at it. 'Got to get it', it was now a matter of self-pride and I was beginning to talk to the bird, in whispers of course. 'Please, just one chance' and, if i'm honest a few expletives as well!
At last, I managed two half-decent shots, enough to give evidence to the committee, nothing special but at least proof and it was posted on their web site. The warden was happy, we downloaded the image and I was free, hoping against hope that I wouldn't come across another rarity, at least not on that day anyway.
I went back to the hide work, with a deal of satisfaction that I had passed some sort of test. I knew I'd never use the image of the yellow-browed warbler in the context of my own work, probably never use it at all but it had not defeated me. The next bird I photographed was a wood-pigeon.
Perspective with a wood-pigeon
A common old wood-pigeon but it began to preen really seriously and I felt comfortable and began to enjoy myself again. I was excited about what was happening and began to see the wood-pigeon in all its glory. The images were working in a way I knew I wanted. Here was a common bird but offering up something special and I was captivated.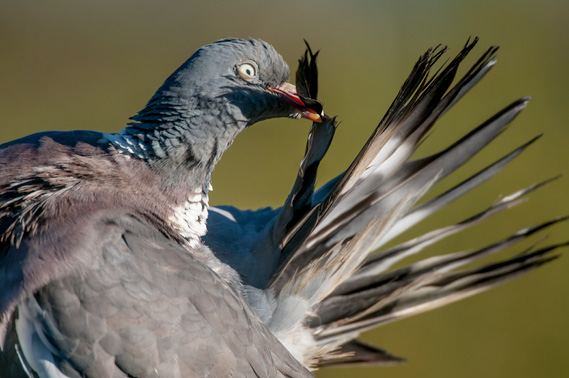 The immediate contrast between photographing the yellow-browed warbler and the wood-pigeon was immense. It reinforced everything I really knew already. I would trade the photograph of the yellow-browed warbler for the wood-pigeon any day. It is the eloquence of birds I'm interested in and its that which keeps me visiting the same places over and over again to photograph the same birds again and again. It's why I have, in my catalogue of sorted images(as opposed to images that remain in my contacts and never get into the sorted collection) over 200 images of great-spotted woodpeckers, 190 images of lesser-black-backed gulls, 180 images of blue tits but only two of a yellow-browed warbler.
Filed under: Birds Eloquent Project
Tagged with: Bird Behaviour, Species