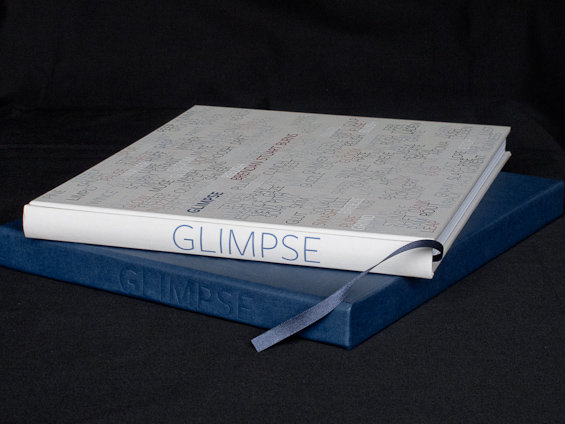 I've always been an avid collector of books and despite now owning a Kindle (they do have some advantages), I'll keep collecting. You commune with books, they become part of you and immersion within them is an experience that is at times intensely personal.
They can resonate place, not only related to content but the moment you came across the actual physicality of the object itself. I have books that tell a story outside of the story they tell. It works like that, it's how it is and the digital form is a cold substitute.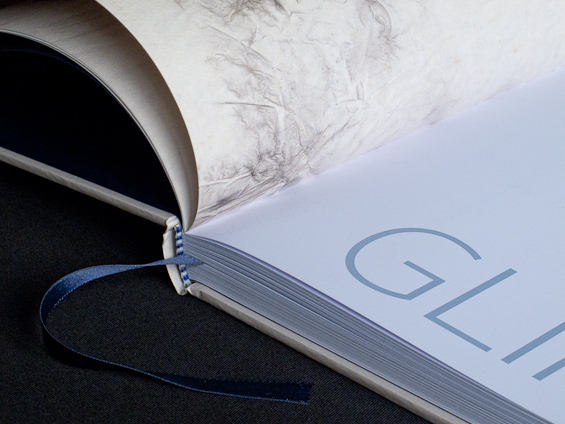 There's anticipation too, looking forward to a publication that is forthcoming, one you've heard a lot about and are excited to begin a relationship with. That relationship began with me yesterday on a stormy day overlooking the bay in Pembrokeshire where much of Glimpse was born. But it was more than that, much more.
I edged my finger nail down the cellophane wrap and carefully removed the packaging to reveal an outer box of cobalt blue beautifully crafted and embossed with ripples that instantly spoke about the processes that were, at that very instant, happening all around me. The van was rocking in the increasing wind, surely now reaching towards a gale. The incoming tide was fighting against the off shore wind. Eddies, flows, back rushes and a constantly shifting surface light echoed the box in front of me. I saw, just in the box that contained the book, sand, water, rocks, time and the processes that I knew would reveal themselves further in the book itself.
I had picked Brendan up earlier in the morning to take a couple of his paintings to be framed in Haverfordwest along with a hundred boxed books to be dropped off in Brawdy. The paintings fitted inch, literally inch, perfect in the back of the VW and the twenty boxes each containing five books were loaded around them. We'd decided I should wait until we were in Pembrokeshire before opening mine. The title Glimpse, now seemed appropriate on another level. Brendan had taken two books out of one of the boxes and I saw the outer cover. It was only a glimpse and I was wanting to get on with the journey west.
We travelled to Gounod's Faust, taking us both back to earlier times when we were bold enough to inflict such 'radical' music to coach loads of Foundation students as we headed for our annual winter field trip to Broadhaven and Druidston, where much of Brendan's work has its roots. The paintings were delivered leaving just the books and soon after we dropped them off at a small industrial estate by Brawdy air field. Brendan was giving a present of one of them to a friend, Ceri, who had been instrumental in getting the project off the ground. It was a strange moment for me as she opened her copy on the other side of the small industrial unit. It wasn't my moment and I wanted to wait.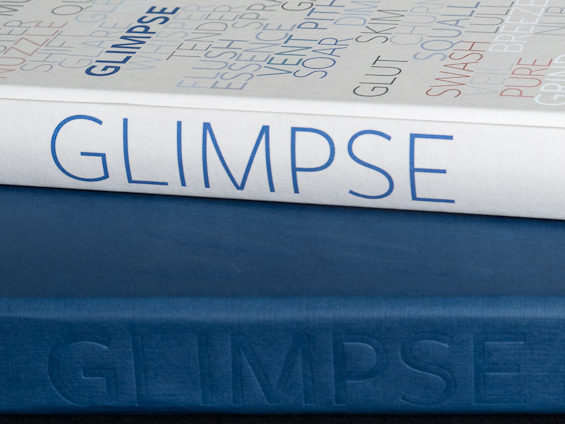 So on to Caerfai and with worsening weather. We moved to the back of the van and Brendan handed me my copy. The next hour was one I'll never forget as the book revealed itself and invited me in. To open any exquisitely produced book is a delight, to open one sitting next to the artist in the location where much of the work was created, was a privilege. The cover, with over 180 words, hints at all those things Brendan's paintings are: sensual, perhaps almost gently sexual at times, words that come from a deep understanding of the processes that shape the landscape and our relationship to it.
Brendan's palette is there too and as you enter the book the quality of the design and production shout at you. Rubbings come first, printed on rich textured paper, vellum like. Grid references locate the work.
Essays by Tony Curtis, Mel Gooding, Anne Price-Owen and Sally Moss interspersed with Brendan's diary extracts from his residency at Oriel y Parc in St. Davids, take us on a journey of the artist's creative output, frustrations and moments of revelation. I have never seen printing to this quality before and hearing Brendan's account of the time he and Andy Dark spent in Venice overseeing the plates as they came off the press, was testament to the attention to detail involved in this extraordinary volume. Andy Dark has shown wonderful sympathy in the use of space, colour and typography throughout the book.
It was hard to put it down and when I did it was with the utmost care; it is a piece of art in itself and deserves to be treated as such.
One hundred and seventy five pages of luxuriant extravagance. The paintings themselves have always moved me. I know the processes that they reveal, the cusp that is always present between abstraction and realism and here in the book, they become almost as tangible as the original pieces, every possible detail revealed and with a balance of colour and tonality that simply astonishes.
We finished the day by putting on the waterproofs and spending an hour and a half together, yet always in our own space, working Caerfai Bay with its extraordinary colouration of rocks; rocks that echoed the book that was safely tucked up in the van above the bay. My relationship with this book had begun and in a very special way. It will continue to develop as I absorb the words and the journey that Brendan took during this most productive time. Privileged is often an overstated and over used word but on this day with the place, the book and the artist, it has never been felt or used more appropriately.
GLIMPSE – Brendan Stuart Burns  ISBN 978-0-9571647-0-3
http://www.brendanstuartburns.co.uk/current/29-current/37-new-book-release-glimpse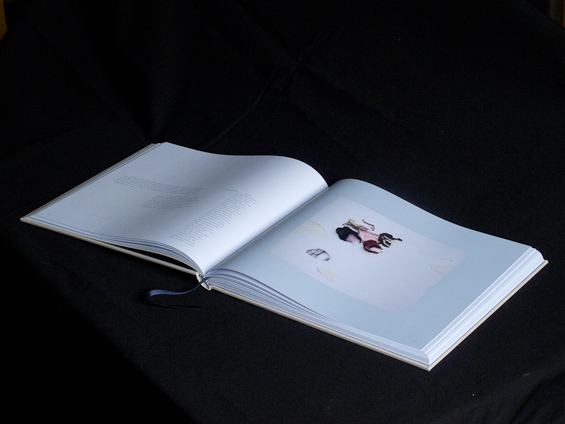 Filed under: Articles, News
Tagged with: Abstract, Art, Landscape