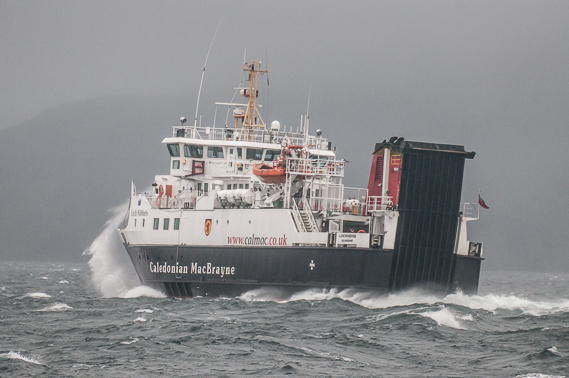 Woke up to a very wet day on Rum. Wind speeds were up too out of the shelter of Kinloch Bay. No chance to make a push to Lochmaddy where we would be in a position to make an attempt to reach St. Kilda. If we were going to be sea sick this was the day. Winds pushing towards 5/6 on the Beaufort scale, we were rolled and buffeted but out on deck it was exhilarating.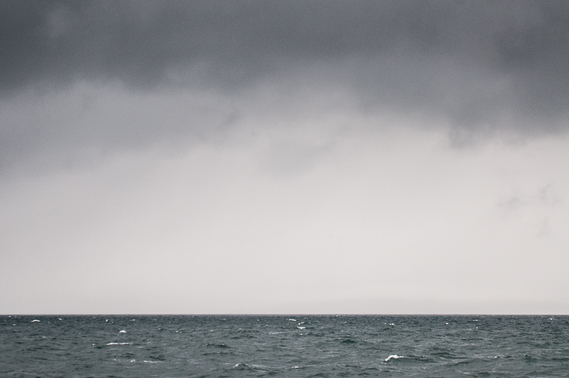 Heavier Seas
Moving off the pier at Rum before the CalMac arrived, we headed on a short morning sail towards Canna, birthing this time after the CalMac had left. It passed us on route and gave an indication of the sea state. We were kept company by the odd passing Gannet and Great Skuas, which cruised along side us hoping for scraps, we did look like a trawler after all! Auks were few but always present.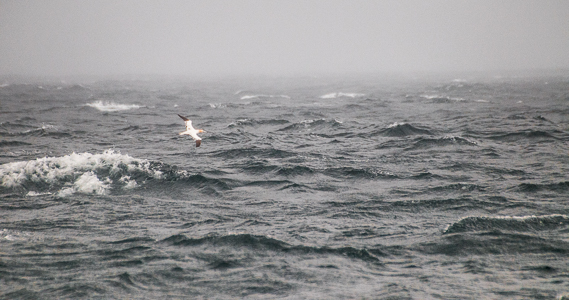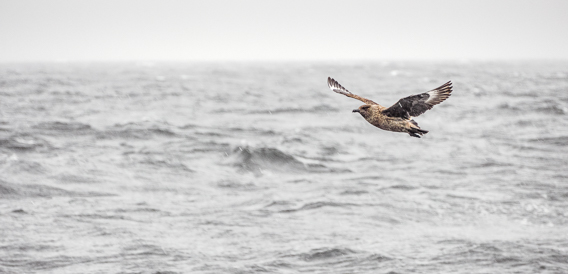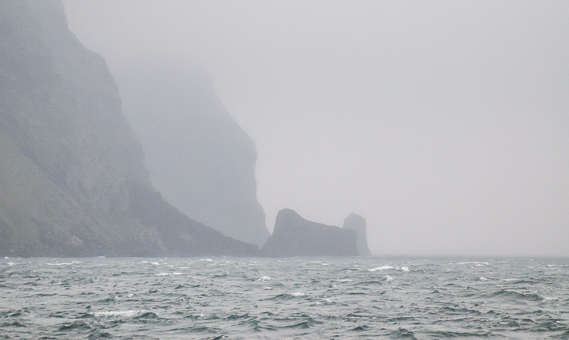 An Odd Welcome
Didn't expect to see the graffiti that greeted us on Canna, testimony to those who have visited, but surely there's a better way than be-spoiling the first impression of the island.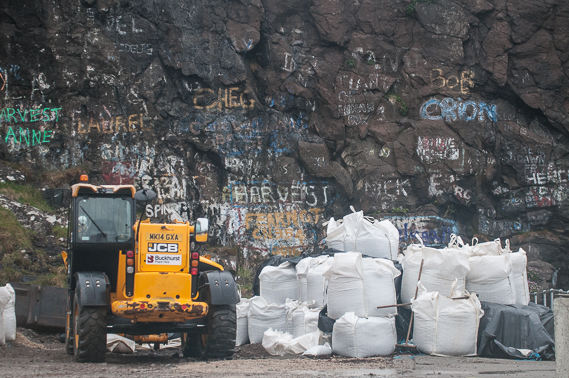 Wanting to explore wherever we ended up we ventured out in heavy rain to walk across the small bridge and on to the tidal island of Sanday. Visibility was poor so no grand views here but still we all felt Canna was an island to re-visit and explore properly.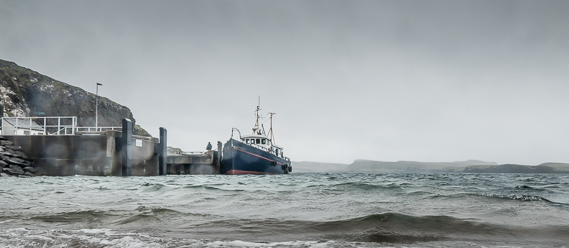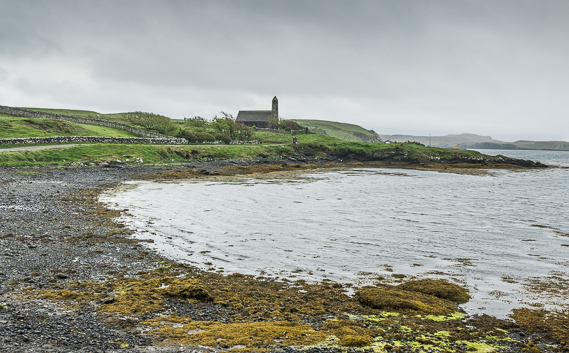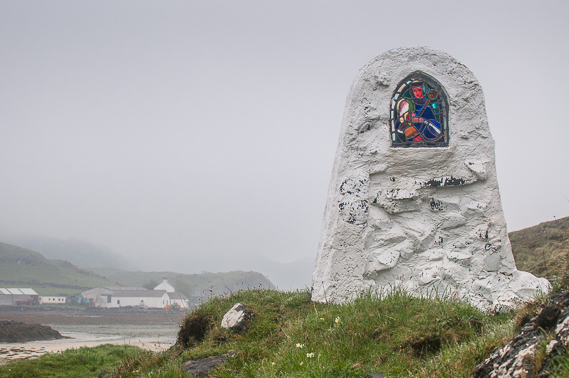 A community shop gave Mike another opportunity to buy a book; it's open 24/7 and operates on an honesty basis. Canna has a rich archaeological history and superb wildlife so perfect for a long stay when the weather hopefully would be kinder.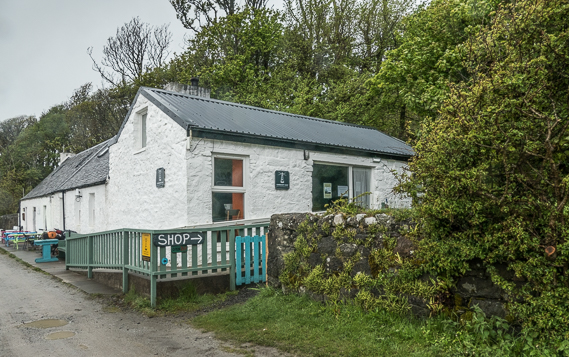 Be-draggled Twite and summer plumaged Dunlin and Sanderling were still going about their business but the rain was relentless.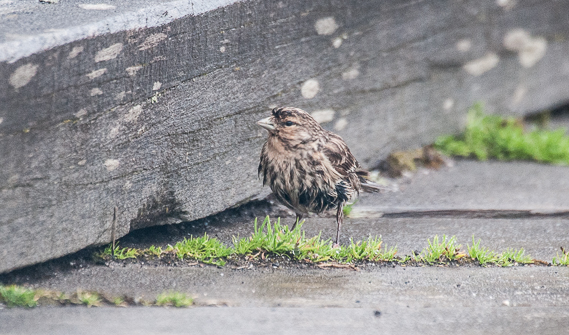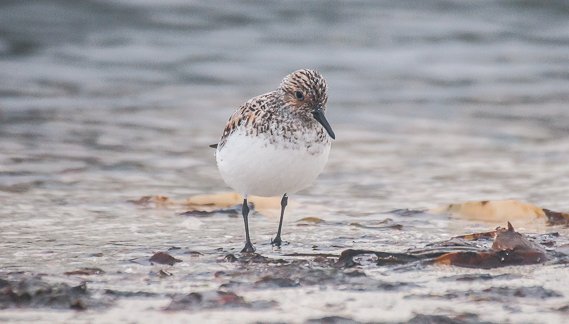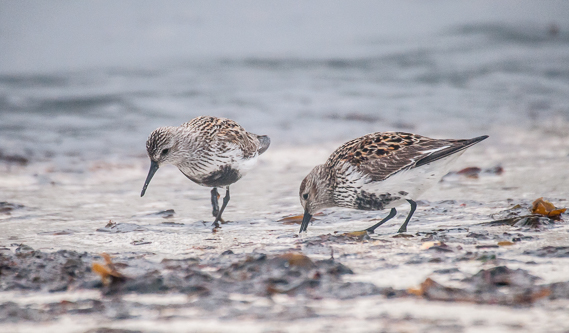 A short detour took us to A'Chill, once the main settlement on Canna and to an 8th century Celtic cross now missing two of its arms, said to be the result of canon-ball target practice in the Napoleonic wars. The punishment stone is also on the A'Chill site, where legend has it that offenders would have their thumbs jammed into a hole on its side and left for a period be-fitting the crime!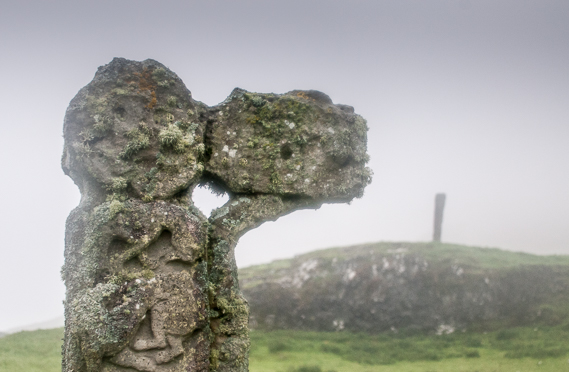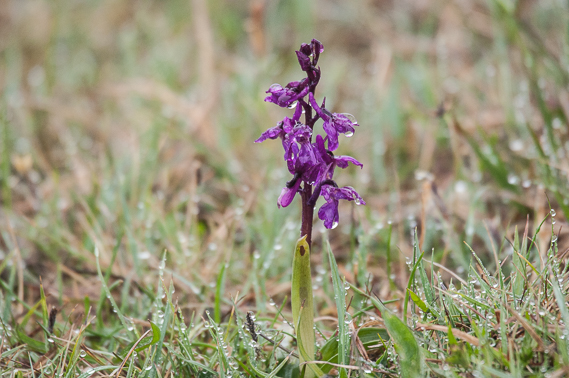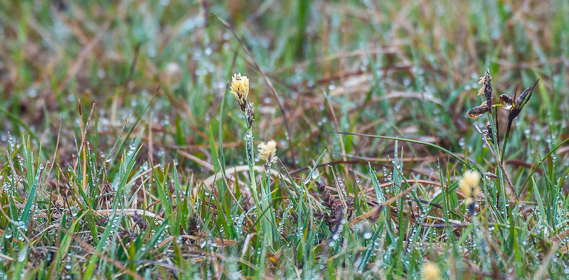 Mike, Gwenda, Chris and I were keen to see what flowers we could find, but conditions were so bad it was a difficult task.
Back to the Kylebhan drenched and with little space for drying out! We ate, hoping for a change in the weather, particularly in wind speed and direction, which were turing to the south east, the worst possible for trying to reach St. Kilda.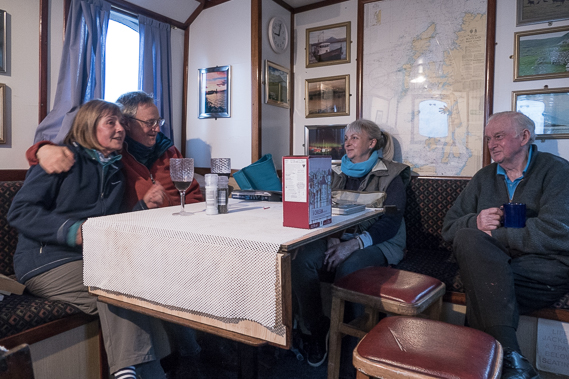 Oh by the way, none of us were sea sick!!
Filed under: Scotland 2018
Tagged with: Landscape, Scotland, Sea, Species