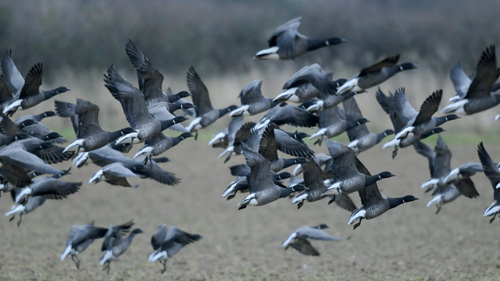 This was a difficult day by any standards. It was forecast for heavy rain and high winds and for once they got it right! We had planned to spend the day at Titchwell, getting to one of the hides and remaining there all day. It's the way I prefer to work. Setting up camp with a couple of cameras and beanbags and waiting to see what comes by.
It was about a half hour drive to the reserve and as luck would have it we passed a field with around 150 Brent Geese in it during the drive. It hadn't yet started raining hard but there was a strong wind already blowing. We were on a main road, and on a bend, so we couldn't use the car as a hide. Parking up a few hundred yards away I walked back using the hedges against the road as a screen. As soon as they become aware of your presence the geese will turn and walk away before taking flight, so keeping as low a profile as possible is crucial if you are to get to within photographable distance. I was working with the 500mm lens with no converters and on 800 ISO. The beauty about the Nikon D300 is the quality obtainable on the higher ISO settings, a huge improvement than the D200 and in effect gaining you two stops. I was able to work with shutter speeds of between 500th sec. and 1000th sec. With the wind blowing hard it was still difficult to hold the camera on the monopod without getting buffeted around.

After this the rain began and as we arrived at Titchwell it didn't bode well. I lugged all the equipment, two rucksacks with the 500 and 300 mm lenses along with converters and all the other bits and bobs to the furthest hide. After an hour or so we came to the conclusion that we were on a hiding to nothing.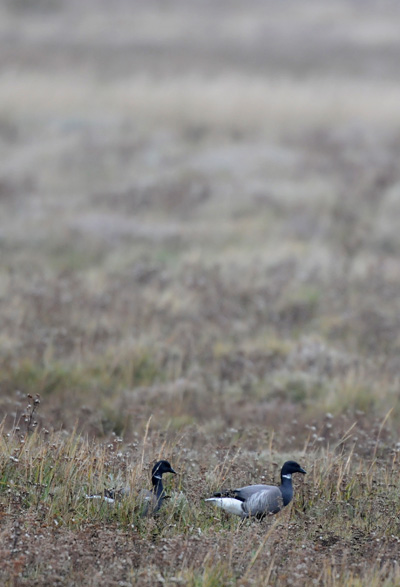 The wind and rain were blowing directly into the hide and it was impossible to have the slats open. There had been a Water Pipit around but in these conditions we would be lucky to see anything at all. Photography became a non starter and we decided to call it a day, get back to the car and trawl around the lanes and coastal creeks in the vicinity. At least it was warm and we had a chance of something. I managed a couple of shots of a Dunlin and Little Egret, you never give up but just change tack. The light had all but gone by 3.30pm and the short day was over. Still lots of laughs and a few interesting images.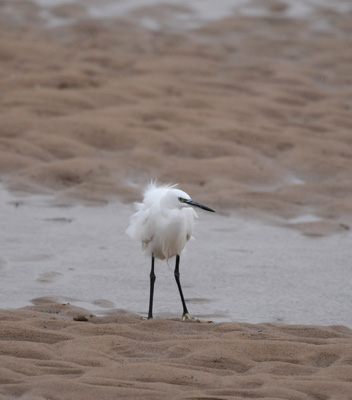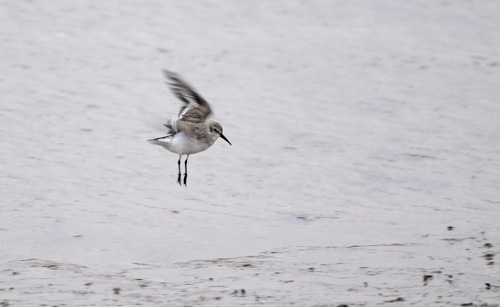 Filed under: Diary Entries
Tagged with: Species, Winter