I spent the last few days in Norfolk with my brother Phil. It was very dull, weather wise, but I firmly believe there is no poor light for photography, just different light. Whatever you are faced with you make it work and after you've traveled overnight from South Wales, some 280 miles or so, you are pretty determined to get something out of it. We journeyed through the night to gain a full day and at this time of the year the usable natural light has all but gone by 4.00pm, so you have a long evening to recuperate.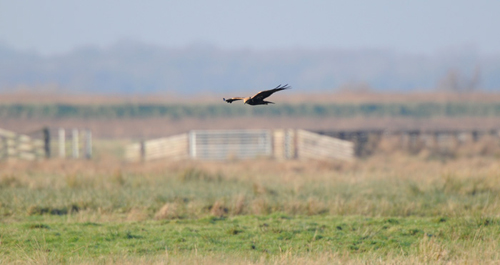 We had planned out where we wanted to go over the last few weeks and part of the joy of getting away on such breaks is in the planning. Pouring over Where to Watch Birds in East Anglia night after night and working out a strategy of sites to visit is all part of the excitement and anticipation. You can bite off more than you can chew, particularly at this time of the year so we thought it best to simply have two locations in mind for each day. It's worth disciplining yourself in this way as it ensures you have time to work the location and you are not wasting time traveling between sites all day. You do of course, though, need to have a degree of flexibility and be ready for changes if something unexpected turns up. I also don't have a wish list of birds to photograph on such trips. If you build expectations you are likely to be disappointed. Much better to simply go and see whats around.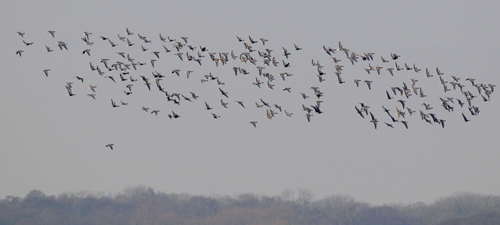 I have always enjoyed working with the birds that present themselves rather than chasing after this and that. You certainly go to various sites with the hope that what's in the books might just be around. But I've longed realised that to take the Where to Watch Birds as chapter and verse is simply not on – and to be fair they don't profess to be anything other than a broad brush. The beauty of birds is that they are not predictable and even if they are around they may simply not show and if they do, it will probably be in such a way as to make photographing them next to impossible! So no expectations – no disappointments.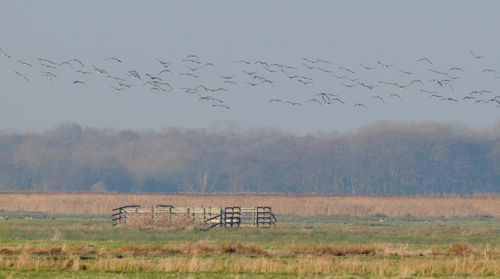 I'll blog day by day – So the first day, Friday, we arrived at Cantley, in the hope of The Taiga Bean Geese, and then moved on to Stubb Mill for the raptor and Crane roost. Between the two locations a couple of Egyptian Geese were in a frosty field. These feral geese have their stronghold in East Anglia, holding up to 90% of the countries 900 or so birds. It was the first time I had seen them in the wild.  The day began with a crisp light but deteriorated in the afternoon and we were watching around 50 Marsh Harriers coming into roost in the rain. Cantley produced a stunning pass of a Marsh Harrier along with the Bean Geese, which were always fairly distant but did take flight on a couple of occasions, always an evocative sight and perhaps more so, sound.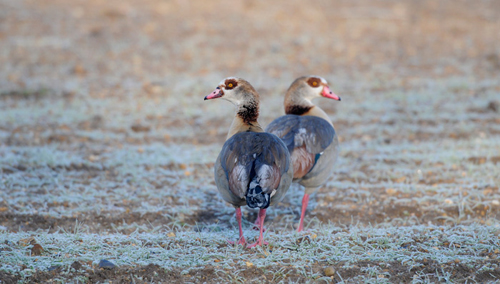 A couple of Green Woodpeckers spent a fair time on a fence post on the marsh. We watched three Cranes in the far distance at Stubb Mill along with a good showing of other raptors, the only one allowing for any photography being a Barn Owl. Sparrowhawk, Merlin, and Hen Harrier were also recorded. It was a real thrill, however, to see so many Marsh Harriers and at times as many as 15 could be seen through the scope at one time – extraordinary.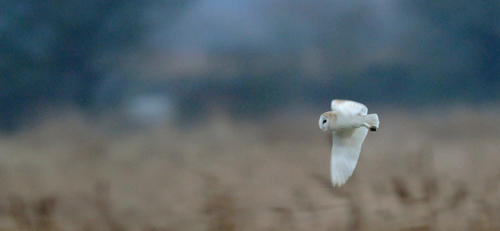 Filed under: Diary Entries
Tagged with: Species, Winter