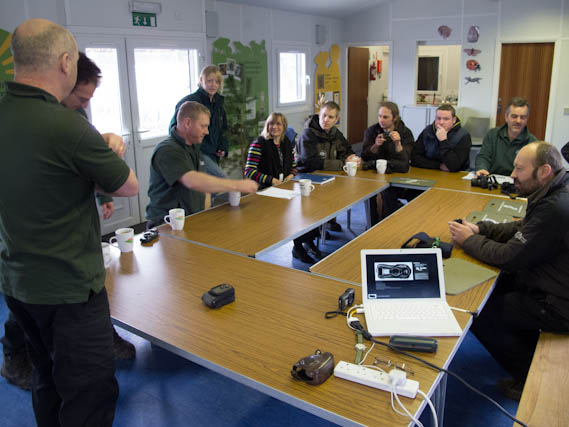 Today I ran a training day for the Countryside Wardens Rangers (Thanks for the correction Jon) at Caerphilly County Council. Some time back they asked me to recommend a camera that would suit their needs and after some research I came up with what I felt would meet the brief.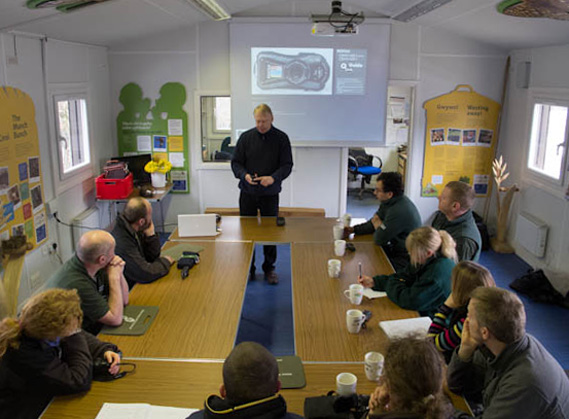 They needed to record the work they are continually involved in for both publicity and departmental usage. I've been out many times with the Rangers over the last few years and know how they work, what they come up against and the pressures of time they can be under.
Pentax Optio WG1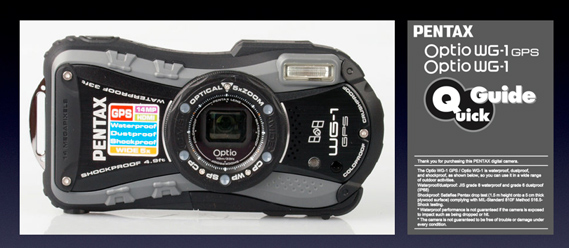 The camera needed to be an all rounder – Robust, reliable, waterproof, small, not too difficult to work or get to grips with and one that they would enjoy using. It needed to have a number of functions that dovetailed into their working methods – video, voice recording, panoramic, good macro capability, good image quality, date imprint function, GPS capability, interval image taking and a decent auto ISO range. The camera that answered to all this and gave a bit more too was the Pentax Optio WG1.
Relevant features
Since the head Ranger, Jon, dropped the camera off a few weeks ago I've been putting it through its paces and I'm very impressed all round. It handles well, its shape being a little unusual but comfortable and it's menus and modes are easily accessible. It has a clean interface and is fairly intuitive once you've been with it for a while. It has a 'green button' function allowing you to move from normal shooting to voice recorder or video, a useful quick and very easy way to move between the key essentials you use the camera for. You can also assign certain functions to be activated through the four way controller on the back of the camera, again allowing quick access to key functions you tend to frequently use.
Learning how to look
The second part of the session was concerned with 'Learning how to look' and this is definitely something that can be taught and refined with practice. I stressed that although knowing how a camera works the most important thing is the person behind it. We can all learn how a camera works from manuals and tutorials but we need to begin to see, to really see. I gave them a couple of exercises that forced them to understand the fundamental element behind all image making – the translation of three dimensional reality into two dimensional illusion. We talked about how photography is all about creating some sense of order out of chaos and then looked at a few examples.
The quotes here, that I used in the presentation, get to the nub of the issue and come from photographers that have had a huge influence on me over the years.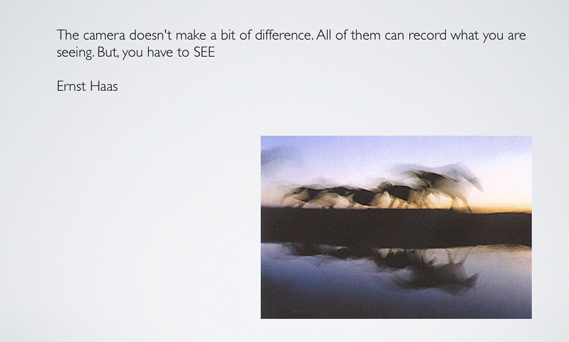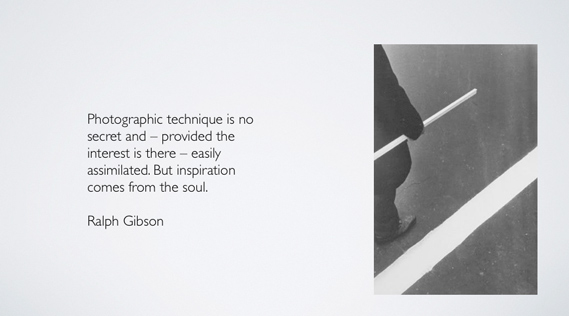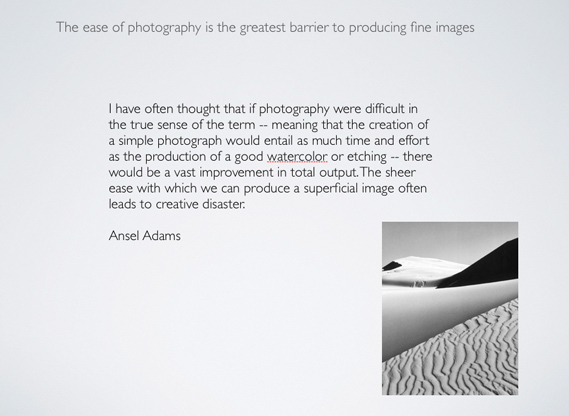 The Ansel Adams quote here is particularly pertinent to the ease with which we now create images via the digital platform. Adams died in 1984, pre the digital revolution, but his words are truer year on year. This also links back to an earlier post I made a few years back, 'Use a Smaller Memory Card'
Filed under: Articles