I've had a reply from a few folk from 'Tracking Marked Geese' about the ringed white-front that I mentioned in the post a few days back.
It's a female, was first ringed in 2008 in the Netherlands and has been reported 23 times since then. Most of the sightings have been from the Netherlands and the Slimbridge area and cover winter periods over the intervening years from November to early March.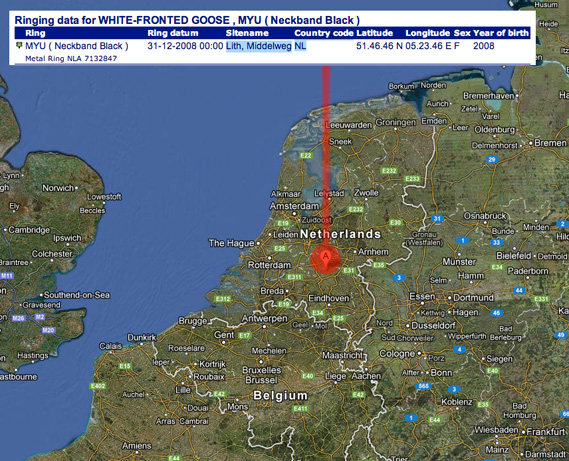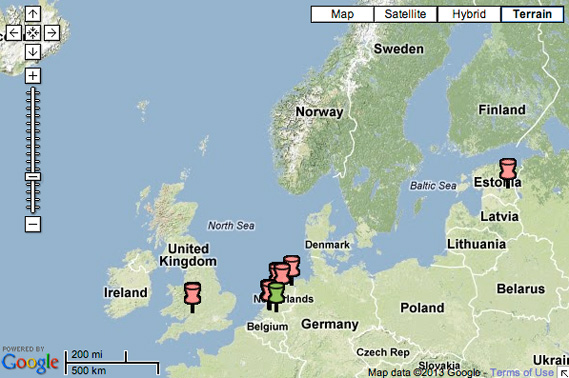 There's one report however that is for April 27th 2010 that's from the ringing centre in Estonia. This would suggest it was on its way back to its summer breeding grounds. It's fascinating to find out about its movements and I'll now be able to track it from the web site and see when further reports come in.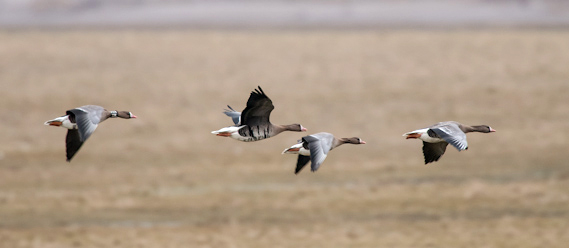 Thanks for this information and the recording of wild geese so important to understanding movements and thus aiding in conservation go to the 'Tracking Marked Geese' site and to:
Dr. B.S.Ebbinge
Senior researcher
Centre for Ecosystem Studies
Alterra
P.O.Box 47
NL-6700 AA Wageningen, The Netherlands
Chairman Goose Specialist Group IUCN-Species Survival Commission / Wetlands International
Gerard Müskens 
Kane Brides
Species Monitoring Assistant
Wildfowl & Wetlands Trust (WWT)
Slimbridge, Glos GL2 7BT, UK
Filed under: Articles, Birds Eloquent Project
Tagged with: Bird Behaviour, Geese, Species