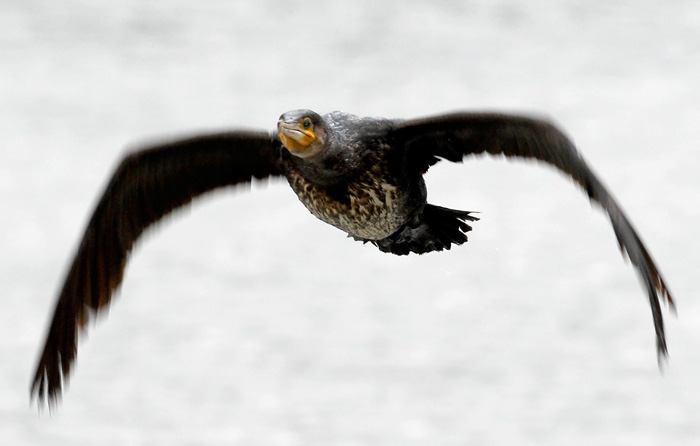 There's a lamp post in the middle of the central reservation of the M4 motorway, just past Port Talbot, that is eagerly anticipated by all the family when we travel west. It's number 386 and more times than not 'our' Cormorant is sitting on the top of it. A gentle fist clenching and a slight punch of the air, with a somewhat muted cheer is given in response.
I find myself feeling a little suspicious with regard to 'our' bird. If it's there, then a good day beckons and all's to look forward to. If the lamp post is empty, there's a slight feeling of disappointment and the day ahead looms a little more ominously. I'm not a superstitious person, so why the Cormorant evokes this irrational response in me is curious. I think it has something to do with the Liver Birds and my home city of Liverpool.
Sitting on top of lamp post 386 the image of the Cormorant returns me to my place of birth. Dominating the skyline on the waterfront at Liverpool is the Liver Building and sitting proudly on the very pinnacle of this majestic piece of architecture are the mythical and mysterious Liver Birds. They are enormous. Two giant copper birds guard the city and it is said that if they ever fly away Liverpool will cease to exist. Standing at 18 feet tall and with a wingspan of some 24 feet the Liver Birds are, to me, simply home. Coupled with the fact that bird also sits on the badge of the 'greatest team in the land' it can not fail but to connect me to all that is my youth.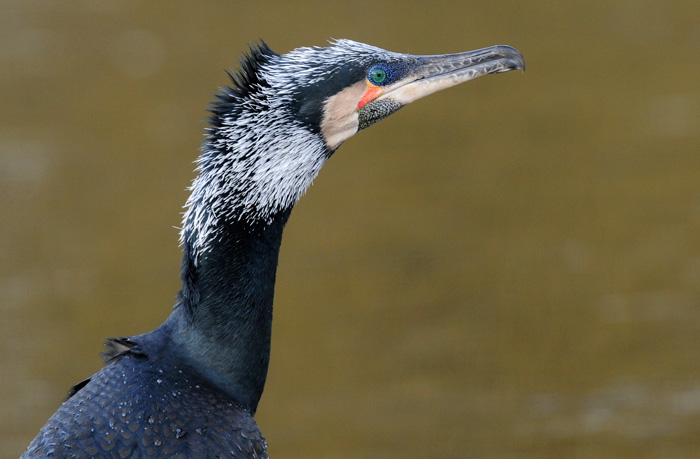 The Liver Birds are now recognised as more Cormorant than anything else and since 1797 the Cormorant has become the official emblem of Liverpool. But it was not always thus and the origin of the birds sitting on the skyline has a confused and rather obscure history.
There are records that go as far back as 1352 showing some kind of bird on Liverpool's corporate seal. It is generally thought that the maker of this seal did not entirely know his birds and was probably not the best artist either. Under the breast of the bird on the seal are some crude letters that appear to be an abbreviation of the Latin JOHANNIS, meaning of John. Now, the eagle is the ancient symbol of St. John and the patron saint of King John was St. John, and it was King John who of course granted Liverpool's first charter in 1207, which was seen as the foundation for Liverpool's growth. So were the Liver Birds badly drawn eagles?; possibly, but those birds looked more cormorant than anything else and in 1611 a plate was bestowed on the mayor of the town with a cormorant upon it, representing the towns arms. So by this time the people of Liverpool had recognized that bird on the old seal as a cormorant. Maybe this is not that surprising as the cormorant was then, and still is now, a common sight up and down the reaches of the Mersey.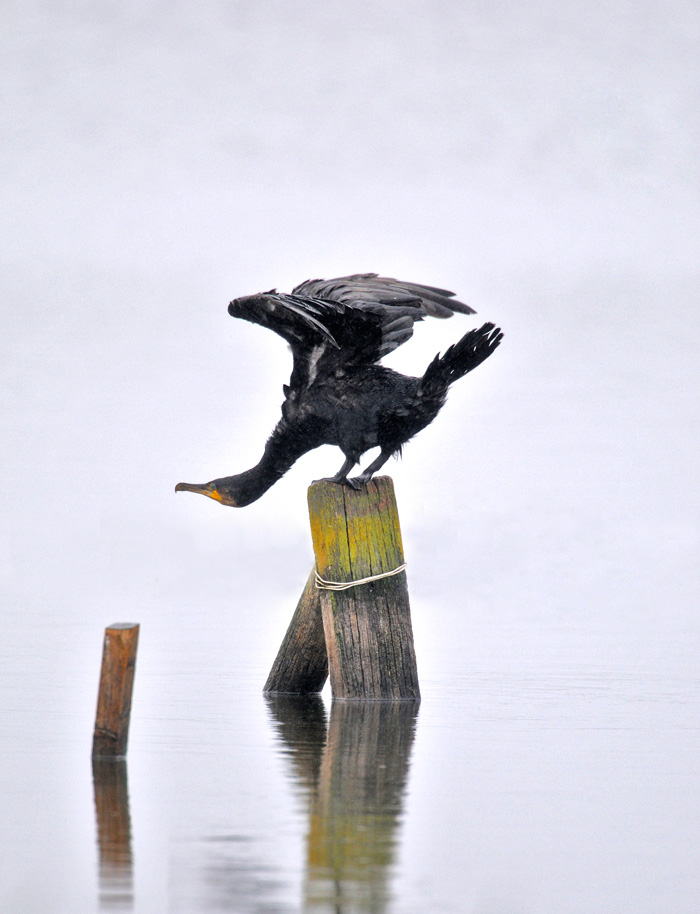 But it's a Liver Bird – so from cormorant to Liver Bird, how? In a book of 1688 an expert of heraldry refers to the Leaver as the coat of arms of the town of Liverpool. He then goes on to explain what this Leaver is and once again confusion reins. He describes it as a 'Water Pelican' or 'Shoevller' in England, but in Low Dutch a Lefler, which is pronounced Lever. However this bird is actually represented by a picture of a Spoonbill! So we appear to have a case of mistaken identity between a Cormorant a Shoveler and a Spoonbill. But the Leaver appears to have stuck and, with time Leaver became Liver and we end up with Liver Birds and of course Liverpool.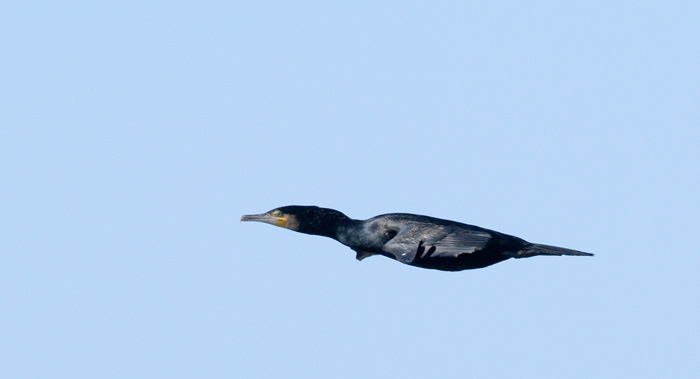 So the Cormorant is, in my book, a Liver Bird and the Liver Bird is, in essence, home. All things related to home are, in my own experience good and so I think the superstition is born out of this connection and the cormorant on 386 is more than simply a bird.
It is also fascinating to photograph, taking on bizarre and iconic poses; wings stretched out as it dries them after a session of fishing; head upside down and body seemingly inside out during preening and in flight, once it has used a stretch of water as a runway, it can be likened to a black arrow piercing the sky. It may not be the most hansom of birds but it is certainly, for me anyway, a comforting and homely sight and one that promises much of the day ahead!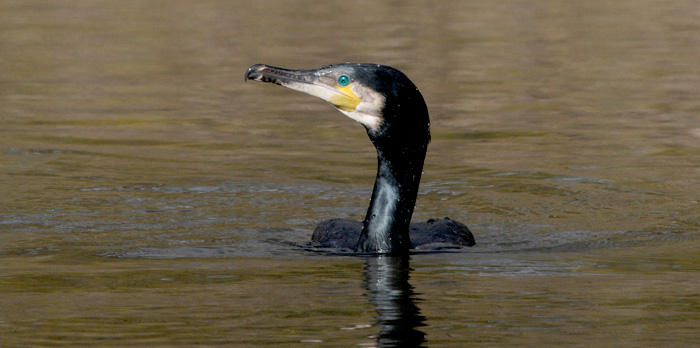 Filed under: Articles
Tagged with: Species