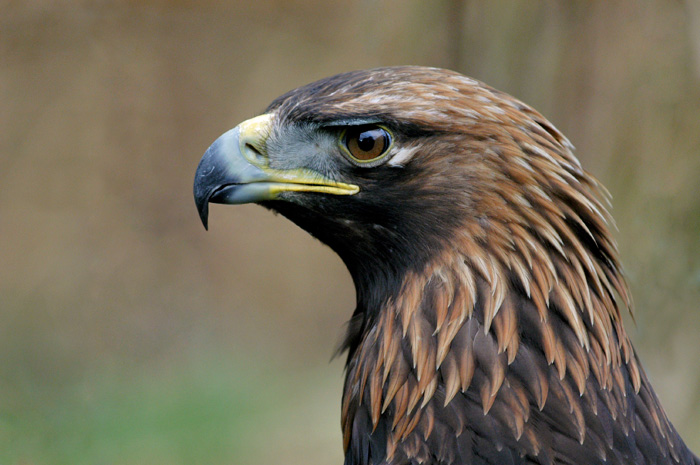 Laggan had broken his wing, possibly by flying into a telegraph wire, and is now being looked after at Wings Over Mull, a bird of prey conservation centre that we visit on the Orangepebble Photography tours. To get this close to such a magnificent bird is something unlikely to happen in the wild. These are birds of vast spaces, occupying the high mountains and crags of Scotland. We have seen them often in the wild, had wonderful encounters in Sutherland, Argyle and Mull and occasionally photographed them. The Golden Eagle remains, for me, the ultimate bird.
I remember a quite special moment when, on the far side of Loch Meadhoin on the road to Dervaig, we watched four Golden Eagles for half an hour. They were displaying, rising on the thermals before spinning down into the hill side. We had a pair through the telescope during the moment of copulation. A brief, but intimate moment between these apex predators. We punched the air with shear exhilaration and the memory still excites. On another occasion a Kestrel decided an eagle was getting a little too close to its nesting site and began a fitful mobbing session. It reminded me of a particular passage in one of my favourite books – On Wing and Wild Water by Mike Tomkies.
"….As she floated eastwards, her huge black form looked slightly tattered on the wing tips. The a female Kestrel launched from  a cliff and harried her, swooping and diving like a small silver light. Next, two hoodies joined in. Suddenly, Atalanta wheeled and dived on the Kestrel, pursuing it for about fifty yards and making it swerve and dodge wildly to get out of her way. She was just seeing it off"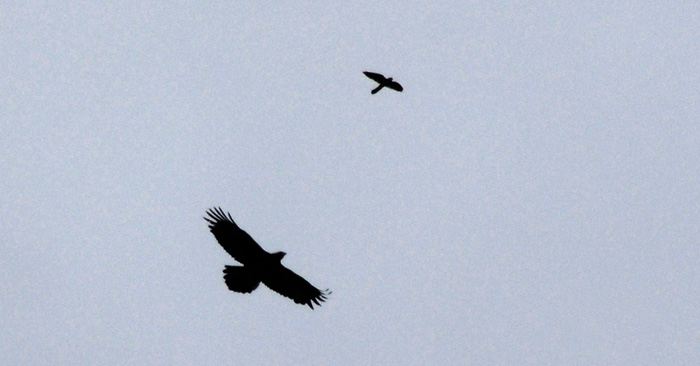 All this happened on a ridge high above us, on the shores of Loch Na Keal. I had been photographing a couple of Red-breasted Mergansers on the loch with the 500mm lens with a 1.7 teleconverter, set up on the tripod. Swiftly turning round I managed to find the eagle and kestrel in the viewfinder and as a couple of silhouttes they made a good photograph or two. But just as Mike Tomkies said, the eagle, tired eventually of the Kestrels attention, simply turned on it and saw it of in a disdainful manner.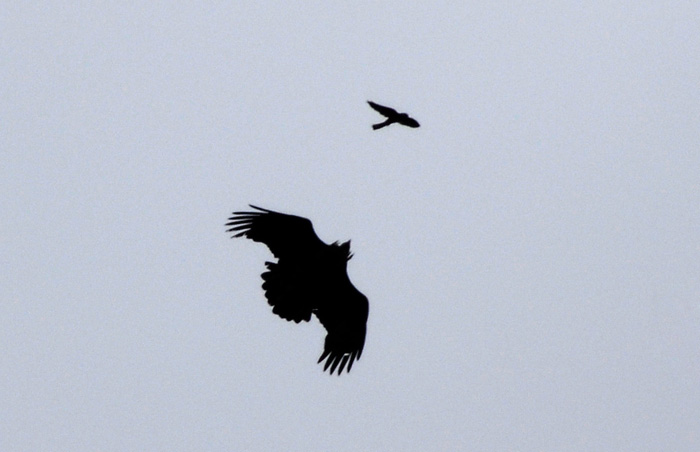 So to see Lagan, at such close quarters, was a thrill. The power is what strikes you. It looks like a serious killing machine and its size becomes, for the first time, real. Its statistics are impressive, a wingspan of over two metres, a length of 82cm and the female weighing in at an impressive 5kg. With around 440 pairs in Scotland it is not a common bird and is infact on the amber list. Amber-list species are those with;
'an unfavourable conservation status in Europe; those whose population or range has declined moderately in recent years; those whose population has declined historically but made a substantial recent recovery; rare breeders; and those with internationally important or localised populations.' Bird Track
Sue and Richard Dewar, the owners of Wings Over Mull, could not be more accomodating to us when we visit. They will take time to place the birds in natural settings, nothing is too much bother and the range of species they care for is impressive. With the Orangepebble tours we spend a morning with the Dewars and it's always a highlight of the week, giving great opportunities to photograph our British birds of prey at really close quarters.
Lagan will never fly in the wild again, but he may one day breed. Whether he does or not he will continue to insipire and strike awe into all who have this close encounter.
Filed under: Articles, Birds Eloquent Project
Tagged with: Species