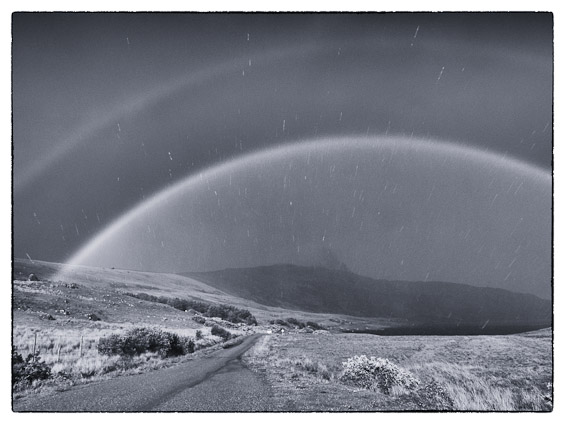 We then started the return journey back towards Ullapool and again the weather closed in but was so blustery there was a chance that we could get the odd break in the clouds before the next downpour.
It didn't look promising as we headed back under Stac Pollaidh again, but we were in no hurry so stopped of to make a cup of tea and listen to the rain battering the van. There's something very reassuring hearing rain pounding a few inches from you when you're safe and all tucked up. It's a sense I've had many times in a tent and it's no different in the van – just a little easier to brew up!
We nearly missed it. All steamed up, warm and enjoying a hot drink you can lapse into that dangerous malaise when you take your eye off the ball. I partly blame the fact that the rainbow straddled the van, right over us. It had been a good hour since we brewed up and we'd lost all hope of that elusive break. The glint of sunlight reflecting off the wing mirror just about seen through steamed up windows gave it away and primed us into action. Straight out of the van and the rainbow was arking across the road in front of us. With a blackening sky the near ground lit up and the clouds swirling around the hostile crags of Stac Pollaidh, we had another unforgettable 15 minutes. Short though the moments were, they were still coming at us and I was beginning to warm to the hours of prolonged rain for the glimpse of the special.
The Journey back to the God's site was dreadful but late evening opened up and we ended what had been a quite extraordinary day with one of the finest sunsets I've  seen for many a while. It had started 16 hours ago and if you remember Ardmair 1, posted a few days ago, I quoted from my diary – I'll leave this day by re-visiting that same entry,
…so all in all saw a great sunrise, a magnificent sunset and 16 hours in between which gave very occasional glimpses of the sublime.
Filed under: Articles, Diary Entries
Tagged with: Landscape, Rain, Rainbow, Scotland