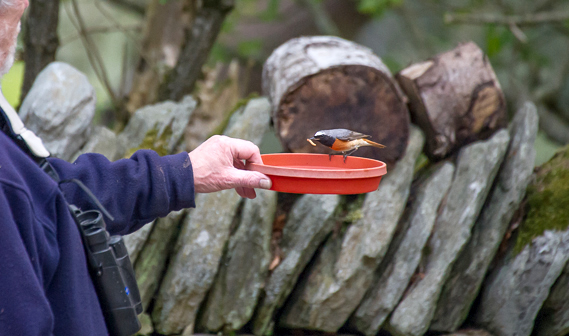 Gilfach is a wonderful example of how farming can co-exist with the welfare of wildlife. All to often maximisation of produce for profit has stripped the land bare of the habitats that are needed to maintain a balance that allows a place for both production and wildlife, here it is different.
The State of Nature
I've been visiting Gilfach over the years at all seasons and never tire of what it has to offer, but whenever I leave this spot it is always with a rueful sense of what it is we are losing as I continue my journey through so many green but barren fields that cover much of the rest of Wales.
There are pockets, and I suppose there always will be, of places that still offer a refuge for natural history and organisations that thankfully work tirelessly to protect them but how much we have lost is staggering and a real worry for what lies ahead.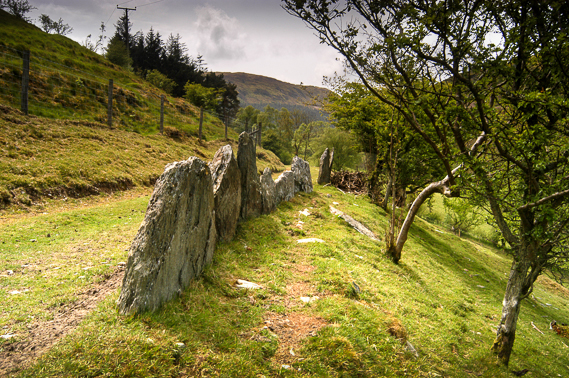 The recent State of Nature report, which can be downloaded from the RSPB, made sobering reading and at times it was hard to read as you could feel the weight of its implications moving you to despair. The broad figures that have been highlighted by the media are very depressing; 60% of the species studied showed significant rates of decline in the last few decades; one in ten species is in danger of being wiped out in this country.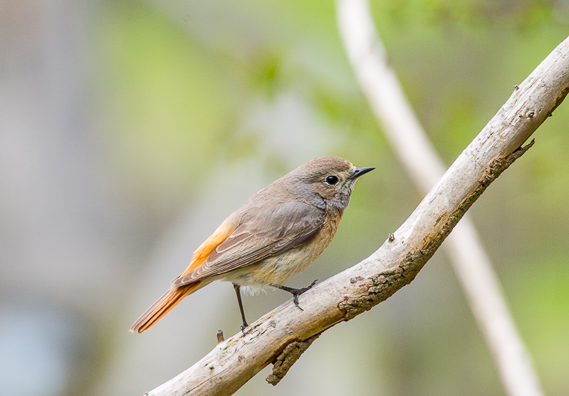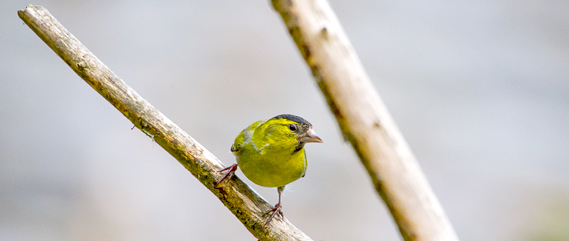 It is reckoned that there are around 50 million less breeding pairs of birds since I started birdwatching in the seventies. Nature reserves were not as numerous then but the farming methods were more sympathetic and of course the population was less and the extraordinary growth of the consumerist society that we find ourselves in was only beginning.
A Worrying Paradox
The paradox of this is that during the decades of decline there has been a huge growth in membership of natural history bodies and in the number of television documentaries about wildlife. Alarmingly the perception of the general public is that wildlife is actually in a better state than it was twenty or thirty years ago. Nothing could be further than the truth.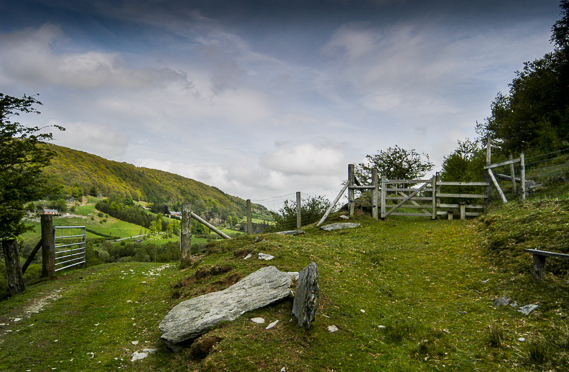 So back to Gilfach, run by the Radnorshire Wildlife Trust, (officially there is no Radnorshire but that seems appropriate here) and the very impressive landscape that it encompasses. On a recent visit I met up with Pip, who with his partner Viv live in the old longhouse on the reserve and act as voluntary wardens. I've known them for a number of years now but what I saw on this occasion was really rather special.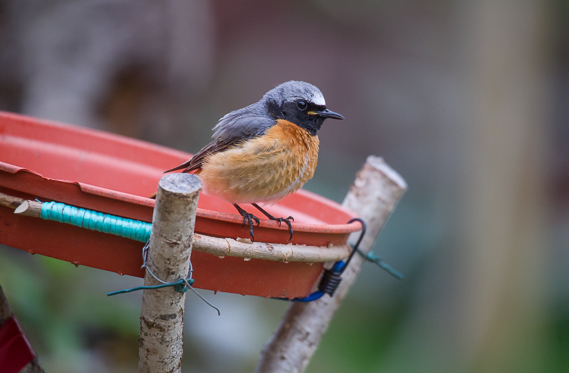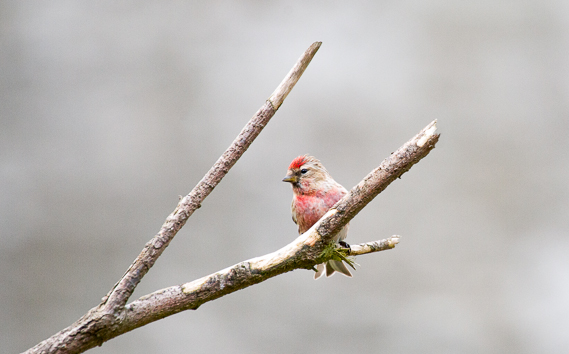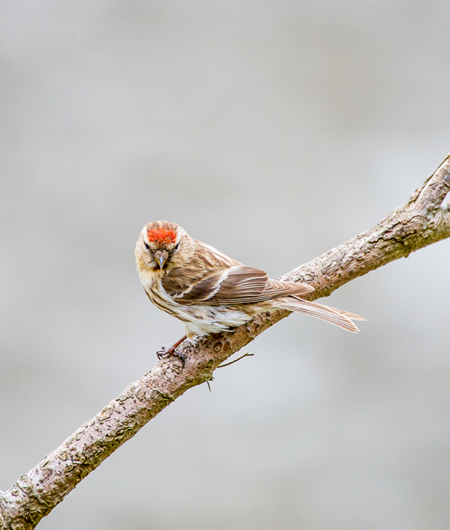 Echoes of Conrad Lorenz
We called in on our way back from Liverpool (it's fortunately on the route we take) and arrived around seven in the evening. All the day visitors had gone and we had the place to ourselves. Pip made us a pot of tea as I photographed the redpols, siskins, and redstarts that frequent his bird tables. He took us to a spot where there was a roosting tawny owl and a wood mouse foraged continually under the bird table. What followed through was something I had never seen with birds as shy and retreating as redstarts. Pip said he could often bring them onto his hand as they took live meal worms from him. On this occasion he had a small plant pot dish and held it out at arms length and proceeded to call the birds down.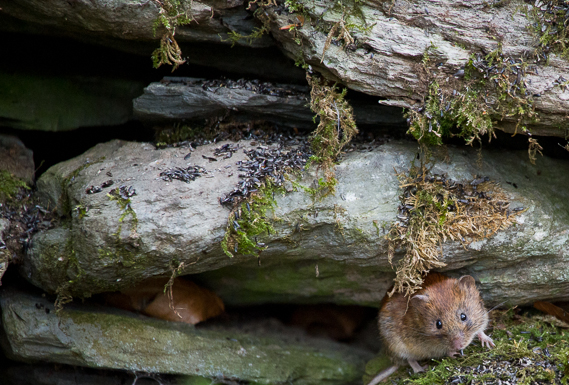 It reminded me of Conrad Lorenz and his work with geese. This wasn't a case of imprinting with Pip but it felt very much like it and certainly it showed a relationship between him and the birds that was extraordinary.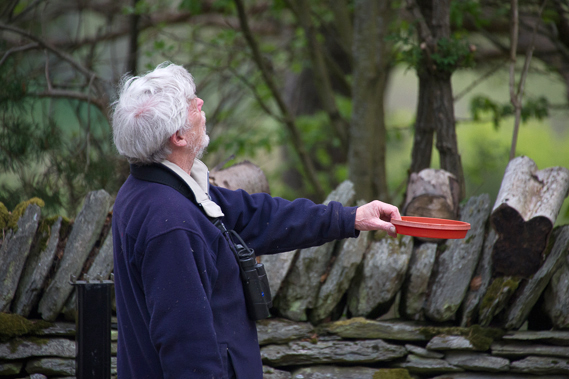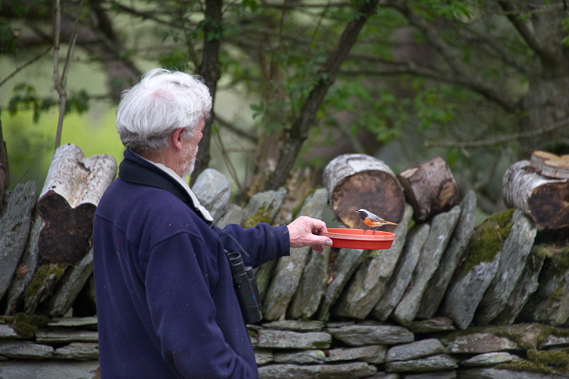 We left after a couple of hours feeling both exhilarated and yet somewhat disturbed and disillusioned. Â This was what most of Mid Wales would once have been like, it was now though the exception and as we drove home we pondered on why, as a society, we cant seem to understand what it is we are losing and continue on a road that is leaving us far worse off for the loss of such diverse and wonderful habitats.
Filed under: Birds Eloquent Project, Diary Entries
Tagged with: Bird Behaviour, Conservation, Farming, Species