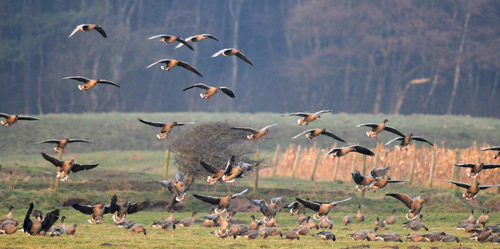 Going up to Liverpool to see family over Christmas always offers the chance to visit the Lancashire mosses. Phil and I managed a couple of afternoons on this occasion. The expectation is always as enjoyable as the event. Having a few hours ahead of you not knowing what may turn up is as good as it gets. I remember in my teens cycling out on  weekends to these flat expanses and although they have changed since those days they still offer a good days birding.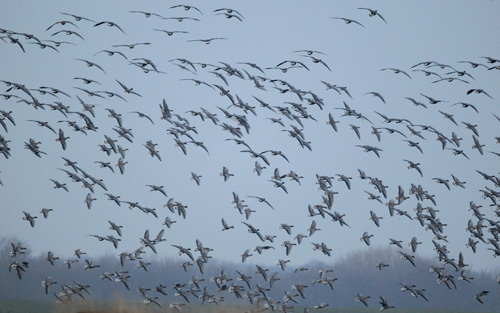 The two outings this time were all about geese, just as it was back in the 70's and if I have one abiding memory of those earlier times on the mosses it would be when I was literally engulfed by thousands of Pink-footed Geese.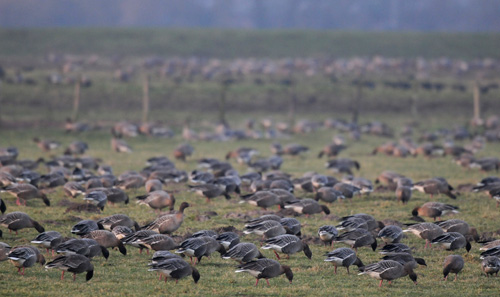 The mosses have always been a winter strong hold for this shy grey goose and huge numbers can build up from October. It has always been a special aspect of this part of the world. Through extensive ringing, particularity in the 1950's, it has been established that the birds wintering in this country originate from Iceland and Greenland. There is another migratory population that breeds in Svalbard, a small group of Islands about 500 miles north east of Greenland and these birds winter in Belgium and the Netherlands. In the 50's it was estimated that the number of wintering Pink-feet in this country was in the region of 30,000 that figure has now grown to around 225,000. Other strong holds in Britain are around Norfolk, Dumfries and Galloway, Perth and Stirling the Moray Firth and Fife, but the mosses and Norfolk tend to hold larger numbers as many of the geese that first put down in the Scottish Borders redistribute further south as the winter progresses.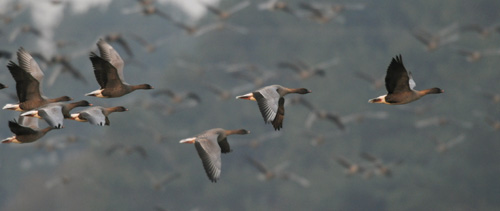 That memorable day back in the 70's saw me cycling to the fields between Little Crosby and Hightown towards late afternoon. In one of the fields, as close to the road as these retiring geese get, were thousands of birds. They rose, as one, to leave their feeding grounds to gather at their roost site on the coast a mile or so way. They flew directly over me and not much more than ten yards or so above my head. The sky darkened and the air filled with that haunting and lonely sound, surely one of the most evocative of all avian calls. It's a wild sound, of wild places and often experienced in cold weather. It's a sound of winter skies in all their guises but on this occasion there was another sound that caught my attention. It was like rain but the sky was clear and anyway the loud splashing I was now hearing I had always associated with  summer rain and often before an approaching storm. The road around me began to resemble a pavement under a recently white washed wall. Splat after onomatopoeic splat hit the road, my bike and me. It wasn't time to take cover but rather stand and for a short moment become part of a process that occurs each time a flock takes to the air. From that day on I have always felt a close bond to the Pink-feet and relish the opportunity of an encounter whenever possible.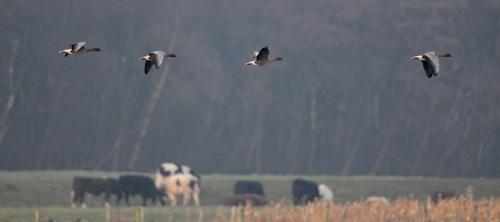 Both afternoons were bitter on our visit this time and even with as much warm clothing as possible you could still feel the cold biting through. We drove around the small roads that cross the mosses in the hope of something turning up. On the first afternoon it did in the form of around 3,000 geese. We spent the next two hours in the same spot watching this large group in the hope that we may get a repeat of the experience three or so decades ago. Over the couple of hours we watched them small skeins joined the main flock until we estimated it had grown to around 4,500. Initially the light was good but it rapidly drops at this time of year. A stunning low winter sun crept lower and lower and I was hoping for the impossible; a full rise in front of a huge setting sun over trees that spoke solely of winter. It didn't happen on this occasion but we have had that experience a few years ago on Islay with huge numbers of Barnacle Geese. (Blog to follow soon).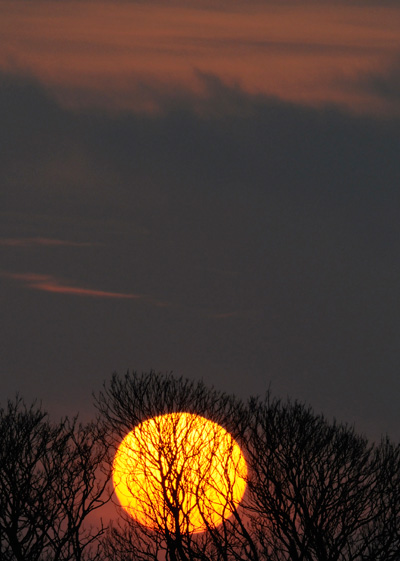 They did finally rise as a tractor returning to a farm put them up. They moved into an adjacent field rather than over us but the sound filled me with awe once again. I had been out of the car all this time with the camera on a bean bag resting on the roof. It was bitter but If they rose I needed to be ready. Phil was enjoying a rather more comfortable bird watching afternoon. With the heater on and windows closed he was in the proverbial lap of luxury. The light finally defeated us and it was time to go home and in my case feel my hands and feet again. Phil turned the ignition and nothing happened. The heater full on had taken its toll on an aging battery. We were sure it was a job for the AA. Contemplating our position and figuring out how to explain it to the AA we sat for around ten minutes. What we thought would be a final forlorn attempt saw the engine just about turn over and a few good revs brought a smile to our faces. We would not risk turning it off again, would we? We moved to view the geese in the  field they had just flown to and stayed with them for a further ten minutes, this time with the engine on! Finally the light was virtually unworkable and we moved on. I still had the camera primed ready out of the window in case of, well anything. The Barn Owl had not shown and last year we had some fantastic views of a Short-eared Owl, but at around 30th sec on ISO 800 with the 500 f4 lens it really was pushing it.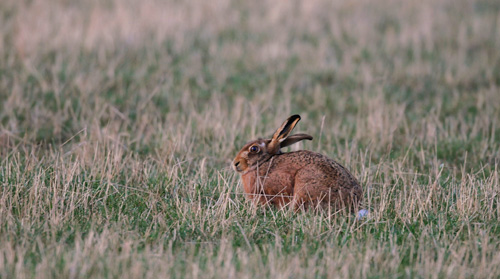 A few hundred yards further along a small hunched shape in the field revealed itself to become a Hare. Phil stopped the car and I fired off a couple of frames. We normally turn the engine off to photograph from the car as the vibration will create unwanted camera shake. At 30th sec it will be further emphasised. I was amazed though when Phil looked at me and said, "What the hell, we'll give it a go" He turned the engine off and I managed a couple of sharp shots before the Hare bolted. Fingers crossed we were rewarded when the engine started and we drove home.
The following afternoon a freezing fog had descended  and we were photographing the geese in the very same fields that I had had my encounter all those years ago. It was virtually dark but with longer shutter speeds there is always the chance of a unusual shot. You can never really give up until its virtually impossible to image anything. The shot here was taken on 15th sec with the camera resting on a bean bag.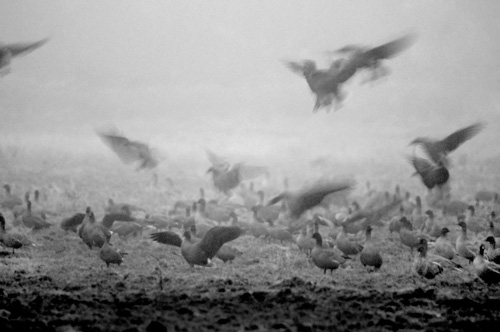 Other birds we saw during these two afternoons included  Little Owl, Golden Plover, Lapwing, Curlew, Fieldfare, Redwing, Red-legged Partridge, a flock of 50+ Goldfinch, Kestrel, Buzzard, Pheasant and of course the ubiquitous Heron.
Filed under: Diary Entries
Tagged with: Species, Winter