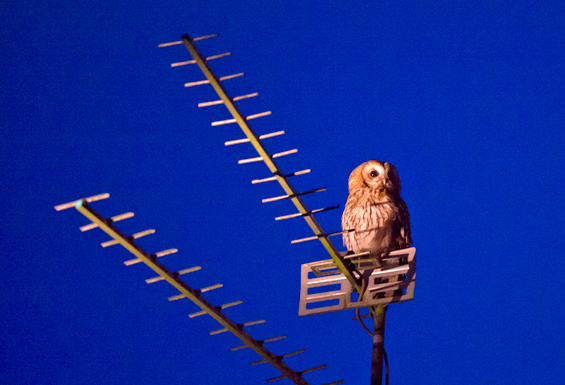 There's been a Tawny Owl around our area lately and last night it was flying from ariel to ariel just across the road.
It was around 11.00pm and at that time of night, without any additional light, it was always gong to be a silhouette, but with a good moon and clear sky there was enough ambient light to pick out the shape and enough contrast between the sky and the owl for the camera to lock on. As the owl was moving from ariel to ariel and not staying particularly long at each I had to hand hold the camera. I was working with the Nikon D3s and the 300mm lens. The D3s has a chip that is very sensitive to light and yet holds the image really well, (more of this in a later post) not showing excessive 'grain'. All the shots here were taken at 12,800 ISO. The pure silhouettes were taken with a shutter speed of 1/40th sec at 2.8 and the silver lined clouds, lit by the moon, helped by adding that little more interest to the sky. It was during these shots that we had the idea of lighting the owl with a torch.
The photograph at the beginning of the post, showing the Tawny Owl with a little catch light in the eye, was the result. My daughter, Nia, shone the light onto the owl which was not at all phased; it sat looking at us for long enough to shoot a dozen or so images.
In the next post I'll show some recent photographs taken at 10.30pm of a Barn Owl with no additional 'torch light' and with the ISO set to 10,000.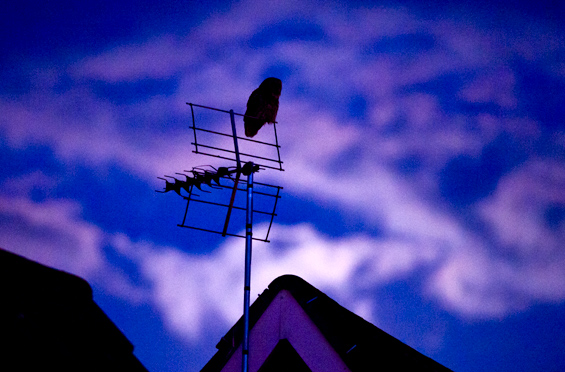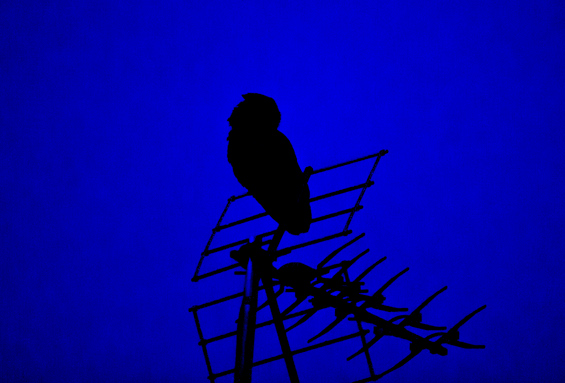 Filed under: Articles, Birds Eloquent Project
Tagged with: Night, Species, Technique