The recent publicity around the forthcoming garden birdwatch has caught my attention – whilst having a pee!! On the way to Bristol we stopped in the motorway services and the add above was staring me in the face. It was placed above all the urinals in the loos!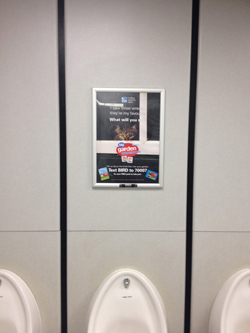 Conflicting messages
I can't quite get my head around it as there seems to be so many conflicting messages. It's a cat looking out at the garden and thus presumably the birds, with a  caption,
'I saw three wrens… they're my favourite'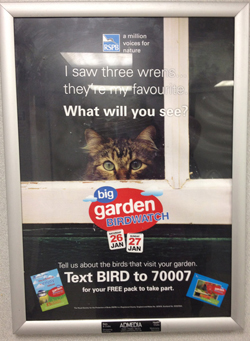 To begin with cats are believed to kill something in the region of 55 million birds a year and as cats are domesticated most of them will be in or around the garden. This figure only supposes that each cat in this country takes about 5 birds a year, fairly conservative I would have thought.
The RSPB are sitting on the fence when it comes to their attitude to cats. They don't deny the numbers but argue that the majority of birds taken by cats would be the sickly and weak ones, already doomed to perish. They also argue that numbers of the bird most taken by the cat, the blue-tit, is showing no signs of decline and if anything is on the increase.
Yet on their website they are advising on ways to stop cats taking birds and seem to be gently encouraging owners to put bell collars round their necks, squirt water at them, plant spiky and pungent plants, in short advising on many ways to keep them from taking those poor unfortunate sickly creatures that would be about to die anyway! Presumably the cat in the add saw three sickly wrens, so that's fine then!
Is it all to do with money?
So why a cat in the add? Well I think it might have something to do with membership and money. Ten million pet cats in the country, over 1 million RSPB members. How many of those one million own cats? Proportionately it would be fairly safe to suggest maybe a hundred thousand possibly more. Membership fee for an individual is £36 a year, £60 for a family. So, lets plump for somewhere in the middle as an average, £48, then multiply it by a hundred thousand. £4,800,000! Thats a lot of money to lose if you begin to upset the cat owners by an aggressive campaign to curtail their predation.
Lets not criticise the cat!
But why go down the route of putting a cat on the add? Thats the bit thats really hard to understand. They have made a deliberate choice to do so, suggested wrens are to its liking and that if it was let out from behind the glass it sits behind it would reduce the wren population by at least three. Are they so worried about losing that membership bounty that the cat is to be elevated to a position were to criticise it, or to ignore it, would incur the wrath of the sensitive owners who would immediately withdraw their membership? The RSPB seem to be saying, that to keep cat owners on board we'll have to demonstrate how much they're an accepted part of our charity by building a campaign around them!
Maybe I'm missing something but there seems to be a bit a double standards going on here – The RSPB seem to want it both ways and are playing a slightly sinister game. Front up, nail your colours to the mast and move on.
Filed under: Articles
Tagged with: adverts, adverts RSPB cats, cats, rspb