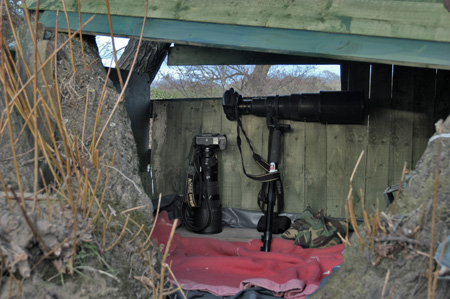 I have been working on Home Farm for about six months now. It is in the Vale of Glamorgan and on the River Ely. We, Richard and I, have been fortunate to find a farmer who is sympathetic to the wildlife on his land and has allowed us to build hides and have total access to all his land so that we can record and compile a list of the wildlife that is typical of a mixed farm in this area. This blog will chronicle the farm through the seasons and aim to show what we are up to and the species we are recording. There will be a little retrospective blogging initially to update on what has occurred so far. It is proving to be a fantastic opportunity and one that we intend to grow into a full survey of this part of the Vale.
The image of the swans here has a little story to it. We thought that the male, on the left here, had either been killed or had moved on (Gwyn, the farmer, had reported to us a fight that had occurred about week ago between two swans) We have been watching them all season and the six cygnets they have reared are still around and all healthy. When, for over a week, the male was not around we feared the worse but today both were back on the lake. When I arrived they were at different ends of the lake with the cygnets spread in between. Soon the female began a slow glide towards the male, gently lifting her neck and making low plaintive calls. The male responded likewise and the two came together for a brief moment, the image below. It would be great to know the male's story over the last week or so – what happened during the fight? ….where did he go?…. and what brought him back? We were really glad the he returned and await with interest to see what will happen to his family over the next few weeks – we will keep you informed.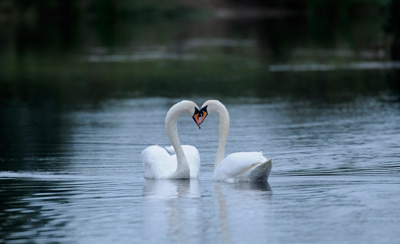 We have a feeding station for birds now firmly established and will post images from this on a regular basis (you can also see a selection of images from the farm in the Gallery section of the web site) We also had a hide, which we built on a corner of the Ely, which was recently washed away by the extraordinary high water in the river after the torrential rains in September. Again more of this later.
Filed under: Diary Entries
Tagged with: Home Farm