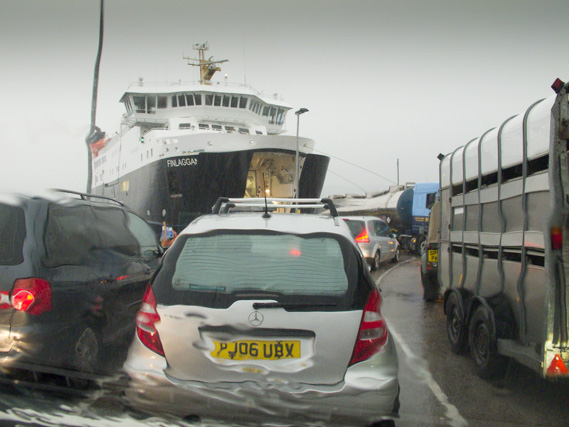 Islay has more, much more, to offer than just geese and the other wildlife that's on offer, but when you're only over for such a short time it's difficult to get a sense of it all.
Feel good factor, entertainment and whisky!
One thing that's so welcoming on the island is that everyone waves at you when driving. You don't only get the thumbs up and a good wave and smile after stopping in one of the passing places, you get it all the time and it brings a real feel good factor to your day.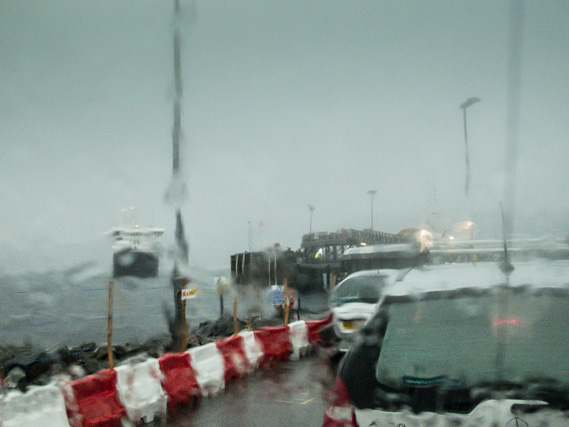 There's the impressive landscape and this time we were really fortunate to get favourable weather to see it at its best. The whisky distilleries, eight in all (two of my all time favourite malts are to be found here, Laphroaig and Bunnahabhain) are a must to visit however short the time and of course there's the people. It's not easy or practical to try and photograph the communities in such a short time, to do so would require a much longer stay and a chance to really get to know the islanders.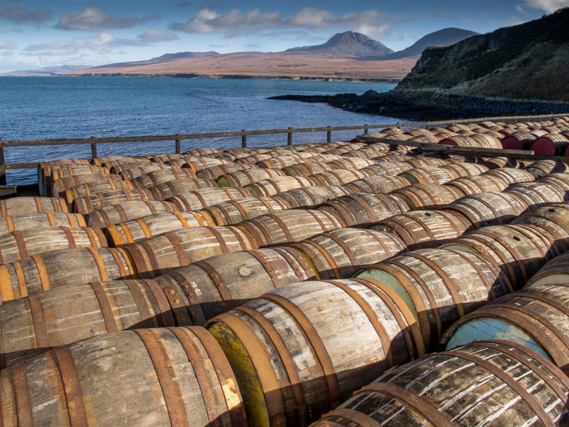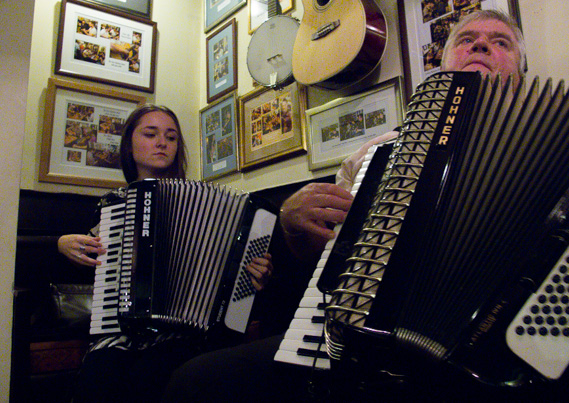 A glimpse of the island life can always be found in the pubs and with the nights drawing in it was a chance to visit one or two and sample the hospitality. We were not to be disappointed and in Port Charlotte, close to where we has parked the van, we were richly entertained by two locals, Ciara MacTaggart and David Adams. We were to meet up with David again at Laphroaig where he works.
A sense of Place
It was the geese we had come for but it's an island that pulls you in. I've visited it many times over the years in winter and summer and experienced it in all weathers, but this time Gwenda was with me and I was hoping to be able to show it to her at it's finest. Islay holds so much that resonates with me and has the best stone crosses, giving a remarkable sense of place, in all of Scotland. Islay is special and so worth the long hours of driving to reach from our home in South Wales.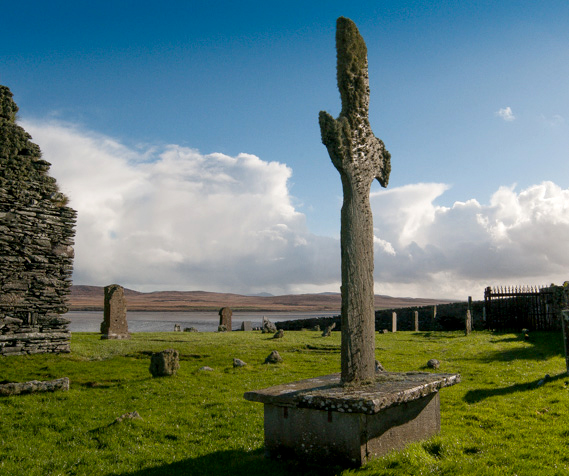 The journey to Kennagraig was long and until we reached Preston on the M6 we were caught in the Friday nightmare of simply too many cars for an inadequate infrastructure. We passed through Glasgow late at night with no bother at all before settling down for the night on the shores of Loch Lomond. The following morning we had a leisurely drive over the 'Rest and be Thankful' down into Inveraray, for me the gateway to the West Coast. The weather got progressively worse and we were reminded of our last foray together to Scotland, which saw us have seventeen, yes seventeen, consecutive days of rain. The wait for the Cal Mac did not bode well as thunder and lightening circled around the Mull of Kintyre.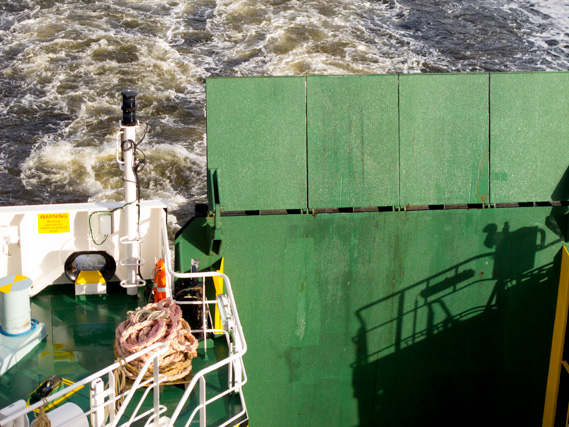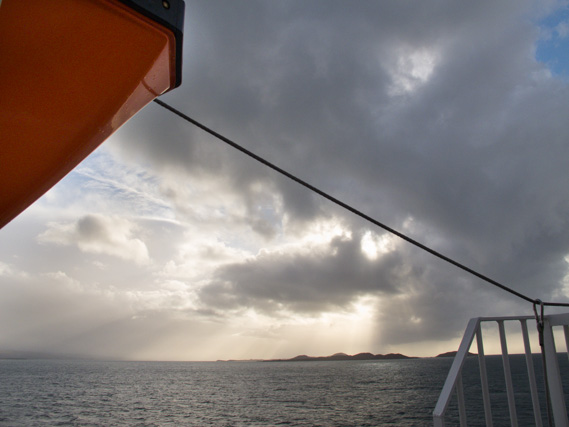 As always, on any ferry crossing, I have to spend it out on the deck. It's where it all starts and you never know what you might miss. We had some guillemots, a couple of fine great-northern divers, good numbers of kittiwakes and, just as we moved into the sound of Islay, toward Port Askaig, a white-tailed eagle crossing towards the mainland. Â As we edged toward Islay we had the odd glimpse of blue sky and the rain lessened, our hopes began to rise as already the weather was not adhering to the forecast, which wasn't brilliant for our brief time on the Island.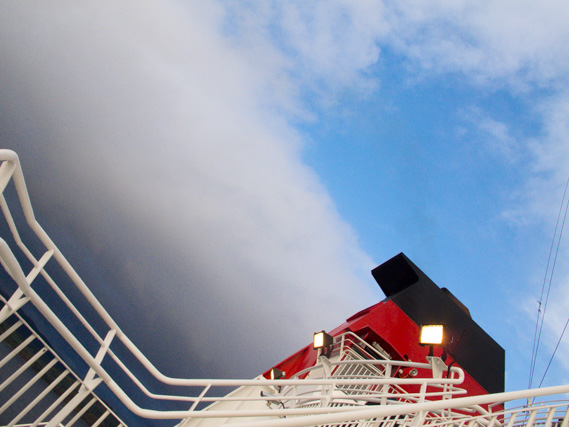 The worst of the weather had past as we landed at Port Askaig and it was just beyond the village of Keils that we had our first sightings of a mixed flock of barnacle and white-fronted geese. A genuine sense of expectation came over me as I thought of the next three days on the Island.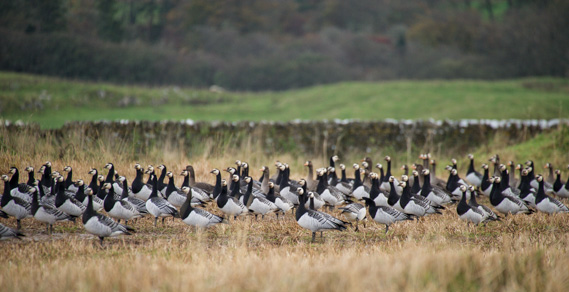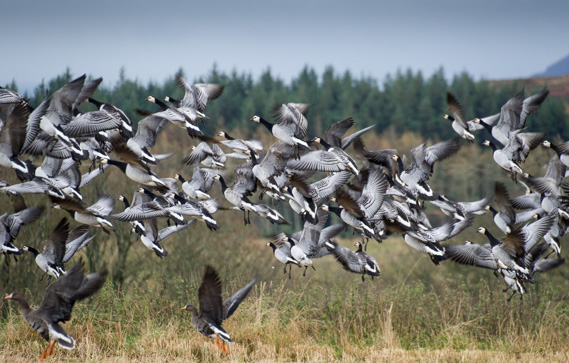 Filed under: Articles, Birds Eloquent Project
Tagged with: Geese, Islands, Landscape, Weather